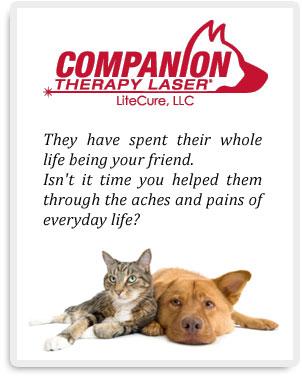 It's January and boy is it a cold one! Arthritis always seems to be worse in the winter months and the same is true for our dogs and cats with arthritis. If you notice your dog or cat seems extra stiff right now it might be time to consider something to help with arthritis – whether that is a nutraceutical (i.e. Glucosamine), a medication (i.e. Metacam, Tramadol, etc.), a disease modifying osteoarthritis drug (i.e. Cartrophen injections) or a complementary treatment (i.e. Laser therapy). We would happy to talk to you about any of these options for your furry family member!
In this blog we want to tell you a little bit more about laser therapy though. Laser Therapy accelerates the body's natural healing process through photo-bio-modulation. This means it sends photons (or packets of light energy) deep into tissues without damaging them. This inspires production of ATP (the fuel of the cell) which is needed for repair and rejuvenation. Laser therapy can be effective in treating chronic conditions such as arthritis, acute conditions such as a muscle injury or wound, and post- surgical pain and inflammation. The laser is unique in that is a sterile, pain-free, surgery-free, drug-free treatment. Whether your pet is rehabilitating from trauma or injury, healing from wounds, or simply aging, the laser has been shown to provide relief and speed healing.
Treatment protocols are unique to each patient and condition. Therefore, treatments will vary in time and complexity. For some chronic patients, multiple joints will be treated during one laser treatment session. When appropriate, laser therapy can be used as a complementary adjunct to other treatment plans.
The laser light is delivered through a non-invasive handpiece to treat the affected area. Your pet will feel a gentle and soothing warmth. As the laser is administered, many pets will relax, much like you would experiencing a good massage. You might notice a change in activity at home afterwards – some pets might have more energy or others might seem more relaxed due to pain relief and decreased inflammation. For some conditions, a series of treatments may be necessary before you see results due to the severity or complexity of the condition. Each pet is different, and treatments are unique for your pet's specific needs.
If you're interested in laser therapy treatments we would love to answer any questions you have!