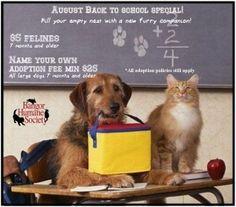 It is back to school time in the Kawartha Lakes and for many this is an exciting fun time, but for others it can be stressful to say the least.  Our furry family members can experience a slurry of emotions as well because the house is now empty for the better part of the day.  Some older pets may seem to enjoy the peace and quiet, but younger more social pets may become quite lonely.  Kawartha Animal Hospital has a few tips for you to try to keep the separation anxiety to a minimum for your pet.
The routine will change, but establish a new one and you'll be surprised how quickly your pets adapt to it.  There may not be time for the long morning walk or play in the yard, instead it will be right after school or dinner.  Just be sure to do it at a new regular time.
If you are able to fit it in with your children's activities maybe you could do a doggie play date at a friend's, in a park or attend a weekly obedience or agility class.
While you are away during the school/work day, be sure to leave some interactive toys for your pet(s) to play with to help fight off the boredom.  Toy brands such as Kong or Busy Buddy have a variety of options to choose from for both dogs and cats.  At the very least, we suggest having some white noise playing in the home i.e. a radio or t.v.  This will help them to feel more comfortable as they are used to more noises when the human family members are home.
Consider having a dog walker come half way through the day or if available take your pet to a doggie daycare.  Some work environments may be conducive to bringing your pet to work?  Even if you do these once or twice in a week it will help break of the monotony of the 5-day week.
At our home, there are several dogs to act as playmates.  Believe it or not, sometimes having multiple pets can be easier than having just one!
We would love to hear any other ideas that you have tried with your pets.  All of us experience guilt when we leave our pets for the day but it is so nice to come home each and every night to someone who is always happy when we arrive.  This is the best thing about having pets… the unconditional love that we are showered with on our return home every day!