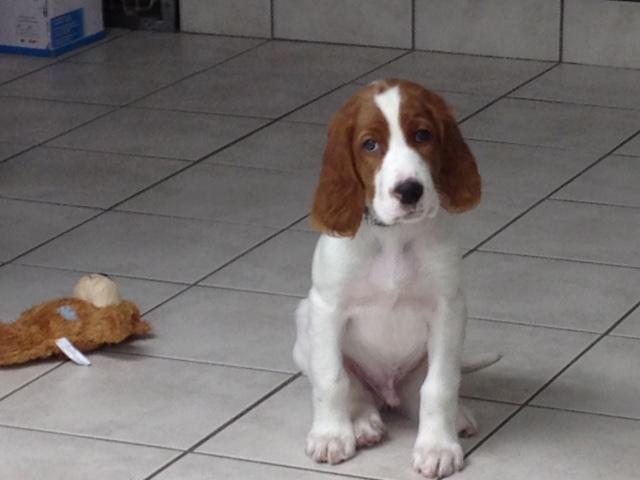 When our family lost Molly one year ago, the initial grief was so deep I immediately said, "I don't want to get another Irish Red & White Setter.  It would feel like we were trying to replace Molly."  I missed Molly incredibly in the beginning, but with four other rescued pets in our home, (2 dogs and 2 cats) plus 2 horses, one of which was also a rescue, there wasn't much time to dwell on the loss.  As the months passed however, I started to realize that I missed specific things about the breed and there was a void…. even with all of the other much beloved pets.  Our youngest daughter also wanted a puppy and started pleading with us to change our minds.  She had only been 4 years old when Molly first arrived and therefore did not have memories of how much fun (and damaging) puppies can be!  And so, even though we had vehemently said "NO" initially, we contacted the breeder. Fortunately, another breeding was being planned for later in the year.
Myriam and I picked Finnegan up on December 28 and made the long drive home.  It was completely uneventful as he slept in her lap for most of the 3 hour drive.  Introducing Finnegan to the rest of our family went as smoothly as it possibly could have. For the first couple of weeks, Finnegan was a dream to have in the house and I was so proud to brag about what an awesomely easy pup he was.  I told everyone that I would highly recommend getting a puppy when you have other older dogs in the home to "train" them.
Well, now here we are on February 25 and Finnegan has gained just over 10 kg. Part of this weight gain may have been due to the fact that he has chewed several dog beds, a hole through a curtain, leaves from plants, 2 floor mats, a nylon leash in half and his harness while he was wearing it. Since we also burn wood, there is a never ending supply of bark for him to gnaw on as well!  One cat stays far away from him and the other tolerates his neck or ears being pulled. One dog loves playing with him too much and the other acts like a jealous older sibling with the arrival of a new baby!  He even has a bad period in the day, like a baby has a cranky period.  It is usually right around the time we are sitting down to dinner and then to watch some t.v.  The three of us take turns on "Finn watch".  When one of us has had enough of getting up to let him out for the umpteenth time (the garage has even more wood!) or replace an item from his mouth that we do not want chewed with one of his 10 toys he is allowed to chewed, we say to the others "Ok, I'm done! Its's YOUR turn!"
When he is finally tired for the night we are also tired for the night! We keep thinking that there has to be a light at the end of the tunnel, but not even a glimpse of it yet! Rick has always said that all vets should have the experience of raising a puppy every 10 – 15 years so they experience what clients are going through with new pets and I now see why. You just forget how much work new puppies (and kittens) are and how much mischief they can get into.
In spite of all his antics and the trouble he continues to get into, he makes us laugh multiple times daily and he has found his way into all our hearts. He makes almost daily visits to the Kawartha Animal Hospital so feel free to stop in and say hello. He needs the socialization with people and pets. Welcome to the Kawartha Animal Hospital family Finn!